The dental surgical chair is an essential piece of furniture in a dental clinic that can be adjusted in height and position in order to place the patient with complete precision, thus making dentists more at ease in treating the patient. Also, a comfortable and appropriate dental unit chair provides a perfect experience for patients.
Equipping your dental office with the most advanced dental unit chair from SAFETY DENTAL is an excellent choice! Here are some top-selling dental surgical chairs from 3 different product series. They make it easier to provide your patients with a comfortable environment and create a safe, organized space for treatment.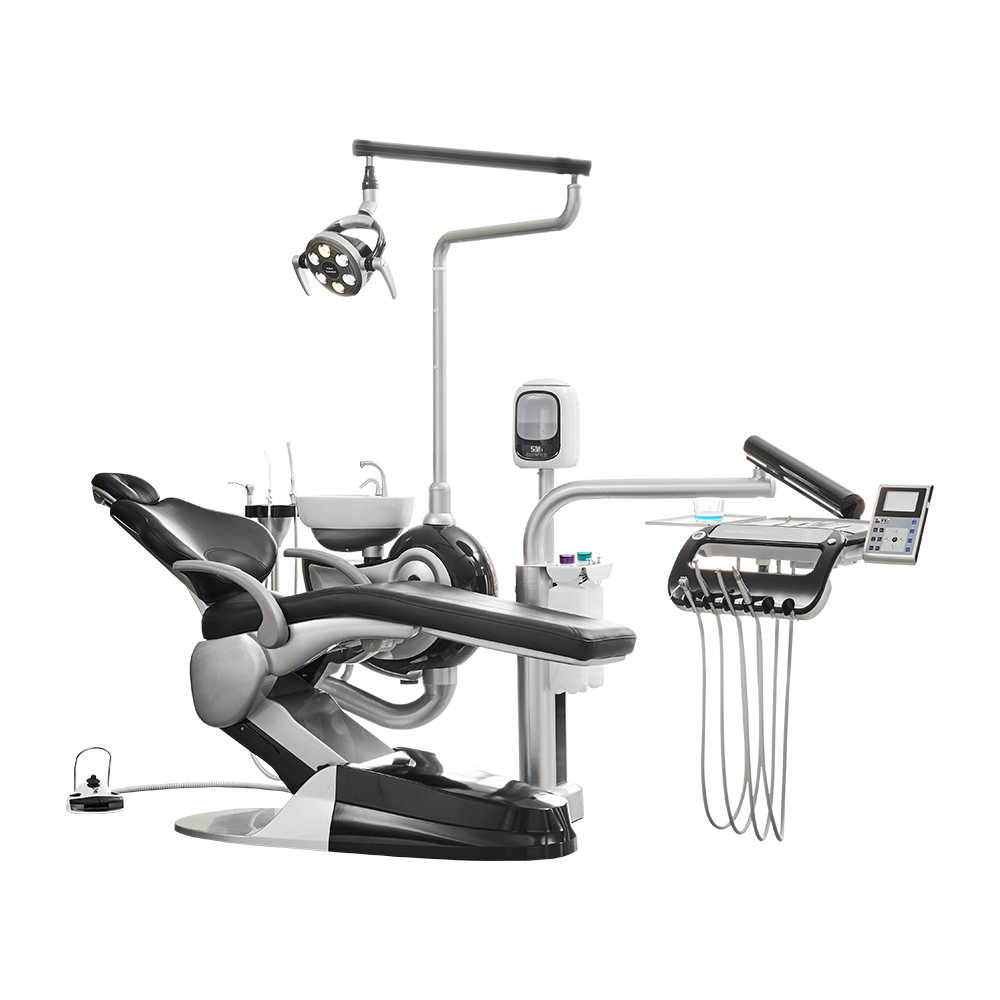 M2+ Dental Chair - DISINFECTION SERIES
* Improve the grade, upgrade the clinic, promote the customer experience, and increase the passenger flow with SAFETY dental unit chair.
* Made of top-quality raw materials, integrated with ergonomic design, stable and not shaky, can support 190 kg, after 6000 hours still intact.
* As you know, not all dental unit chairs can be disinfected. However, this dental surgical chair from the disinfection series can effectively prevent aerosol transmission and cross infection.
* Unlike other brands that may leak, age, and other situations, our dental unit chair applies high-quality German pipelines and can withstand a month of chemical liquid detection with three-level water filtration.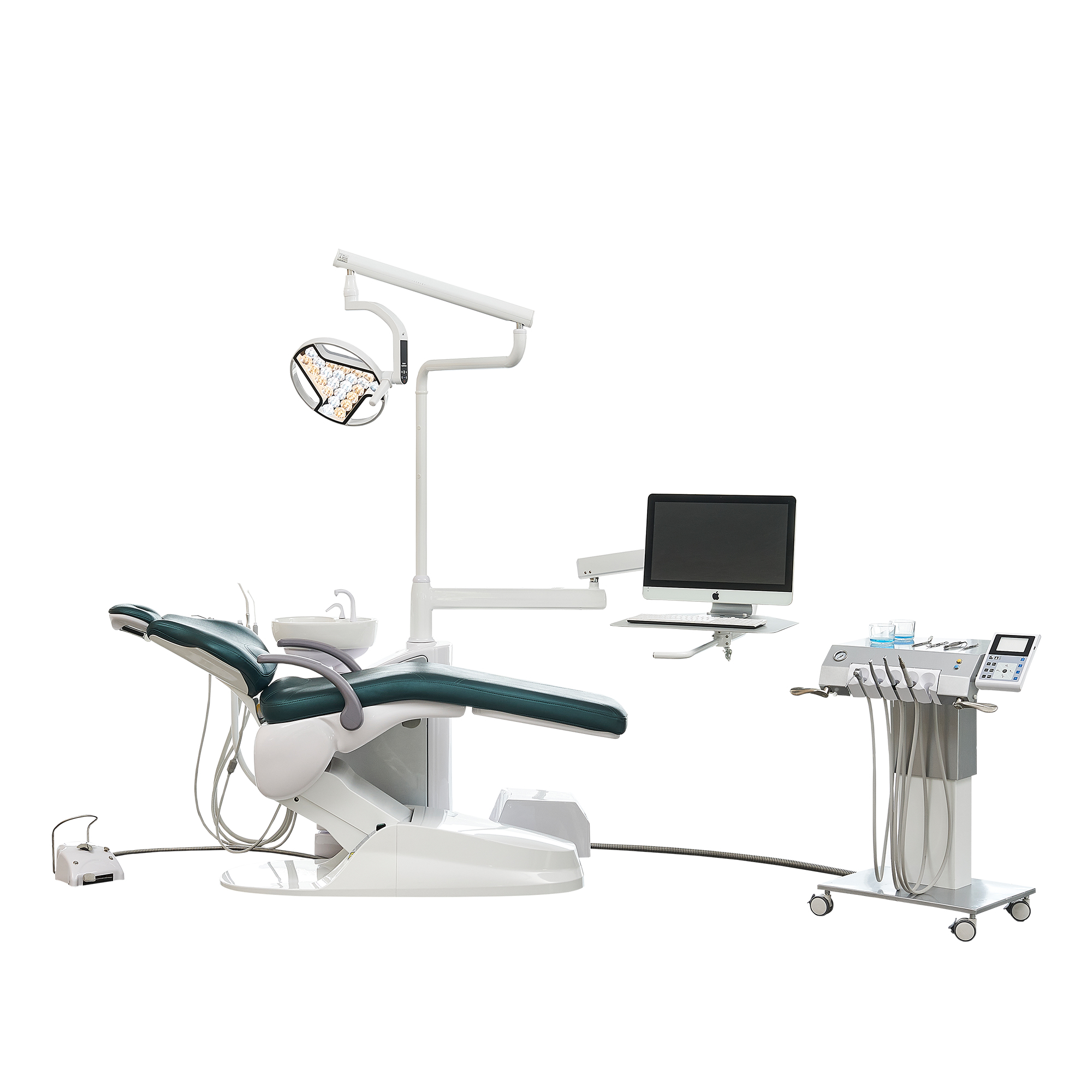 M8 Implant Chair - IMPLANT SERIES
Rotatable box – no less than 60° rotation, good-looking, easy to use and space-saving.
Italian waist support – provide further comfort to customers. This implant operation chair is made of microfiber leather, comfortable and durable, allowing patients to experience the "therapy during sleep" and better protect the patient's waist.
Yellowing resistance of plastics – using high-quality yellowing resistance plastic. Plastic materials will not turn yellow over time like other dental unit chairs. The white and clean plastic keeps the implant operation chair brand new, improving customer satisfaction.
T900 LED dental operation lamp – 24 bulbs LED shadowless surgical lamp for this implant chair. The floating optical lens design directly presents the crystal-clean artistic beauty.
* 24 high brightness LED lamp beads are arranged in a geometric array, greatly improving light density and reducing shadows.
* The dual color temperature lamp beads are arranged in a balanced manner, which increases the consistency of the light color temperature.
* High-efficiency optical system design and heat dissipation management system effectively reduce the temperature rise of the doctor's head and the temperature of the operating surface.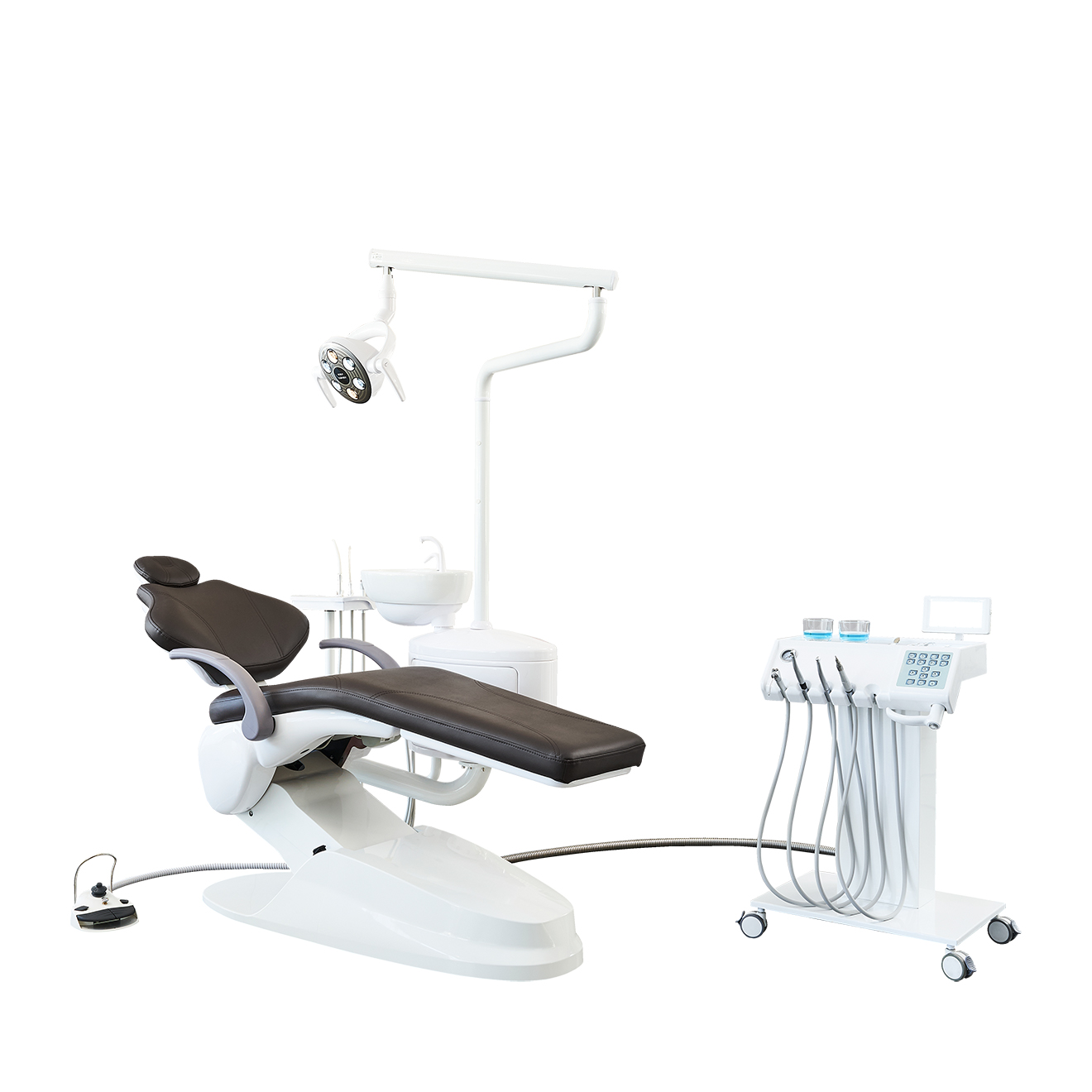 M1++ Dental Chair - ECONOMICAL SERIES
Cart with listing – new technology, control sensitive, fit for different dentists with different heights, supply electric for implant machines or other machines.
Rotatable floor-standing side box – inject molding, side door adopts easy-to-remove design with 60° rotatable, easy to maintain and repair.
Suction filter – ensuring the suction pipelines are unobstructed. Easy to remove for cleaning.
Silicone pad – durable, non-stick and easy clean surface, prevent the shoes of patients from dirtying the leather seat, prolonging the service life of the seat.
Pipeline layout – with line holder, orderly arrangement of lines, convenient for inspection and maintenance.
Mental connectors - SAFETY uses all-metal pipeline connectors and pipeline ties to ensure durability and prevent water leakage and air leakage, effectively reducing maintenance costs.
German corrosion-resistant pipes – The specially reinforced pipe has strong corrosion resistance and has passed the soaking test of various disinfectants. In contrast, common dental chair pipes are likely to be corroded by disinfectants.
Conclusion
SAFETY DENTAL is a professional and reliable dental unit chair supplier in China, offering a wide range of dental surgical chairs and children dental chairs at affordable prices. Please feel free to contact us at info@safetydental.net for more details!