"Father,is neither an anchor to hold us back, nor a sail to take us there, but a guiding light whose love shows us the way."
A father is the one we always look up to for advice and encouragement, whether he is strict or lenient. We don't always communicate our feelings to him, but writing a letter to dad to say "thank you" or "I love you" could be a sweet way to touch this heart. He's also the one who says 'yes' to our insane ideas even when no one else will. A father's role in the lives of his child is critical. His hand on our shoulder is all it takes to make us feel protected and motivated to keep moving forward.
As time went on, the father's physical function became less and less than before.Especially in terms of teeth, the pain of the teeth is unbearable for them, and because of the pain of the teeth, they often cannot eat, which will cause them to not be able to have enough nutritional supplements for their bodies. As children, we should pay more attention to our parents' bodies and their oral health.
Dr Juan once told us that many older patients in the oral treatment process, many because of the long-term treatment, can not bear the lumbar spine, will feel very tired and tired during the whole treatment process. And we, SAFETY, noticed this problem from the very beginning, so we invited Italian designers to design an ergonomic lumbar pillow for us, and after testing, the patient was lying on the dental chair for up to 2 hours of treatment , you will not feel tired. We got the armrest that can be rotated 180°, and also has a reset button, which can make it easier for patients to get on and off the dental chair. In addition, our headrest can be rotated 360°. Many dentists hear that our headrest can be rotated 360°. I'm surprised, I don't think it's necessary. And we SAFETY, in addition to quality, but also to impress customers and patients in details. The reason why the 360° rotation is designed is that some patients may have difficulty moving, especially those in wheelchairs. The headrest can be rotated 360° so that the patient can rest on the headrest, and the doctor can also treat the patient.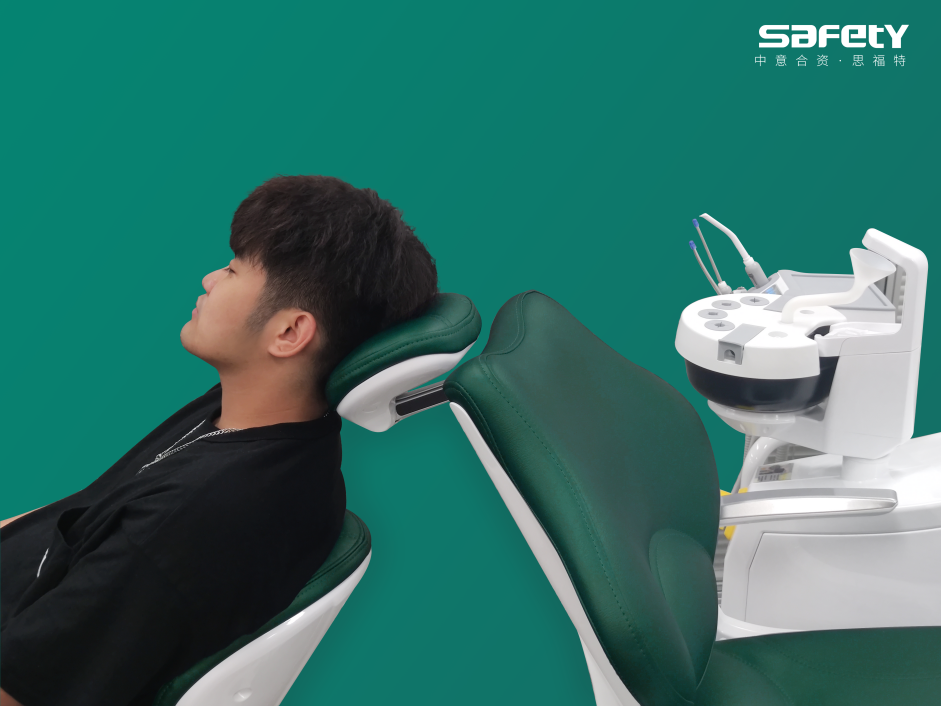 Many clinic dentists and hospital dentists who have used our dental chair feel that the design of SAFETY's dental chair is very user-friendly and the details are very considerate. And our SAFETY, the original intention of designing dental chairs is to give patients more careful care. This is especially true for customers who buy our products, and give u shouting more careful care.
If you are looking for more technical information of dental unit, please email me: spring@safetydental.net.