Most dental practitioners and dentists have an ample amount of knowledge when it comes to disinfection and maintenance of dental office tools and equipment. Nevertheless, a critical component of the dental office is often overlooked during the disinfection process —the dental chair.
A dental chair is a piece of equipment that all patients use in the office, and it is identified as a surface of clinical contact. The upholstery on dental chairs is exposed to blood spatters, saliva, and other types of body fluids throughout the dental care check-ups and routine.
The Centers for Disease Control and Prevention guidelines on infection control in dental health care settings stated the potential exposure of dental patients and employees to harmful microorganisms, including HIV, Hepatitis B and C, Mycobacterium tuberculosis, and cytomegalovirus.
Here are three simple tips you can practice to properly care for and maintain the electric dental chair in your office.
Tip #1: Clean the Upholstery of Your Dental Chair Appropriately
Peeled, cracked, or damaged upholstery is usually because of the repetitive utilization of harsh chemicals during the dental chair cleaning and disinfection process. Studies from infection control experts reported that the upholstery has an incredibly low risk of pathogens transfer.
Nevertheless, since the Occupational Safety and Health Administration regulations often impose some kind of infection control associated with upholstery, one excellent method to address the issue and prolong the chair upholstery's lifespan is by using barrier protection. If there is an issue concerning the use of single-use plastic, certain manufacturers also provide anti-microbial or anti-stain upholstery options.
On the other hand, when it comes to periodic cleaning, a solution of mild and soapy water or any commercial cleaners without alcohol, ammonia, or bleach can get the job done pretty well. Also, dental staff should avoid using abrasive cleaners or other abrasive tools, such as scrubbing pads, when cleaning the upholstery to prevent permanent scratches or surface damage.
They should also consult the manufacturers' instructions at all times before cleaning or disinfecting the dental chair upholstery the first time. The instruction manual should have clear guidelines on the proper procedure for cleaning and maintenance, including what kinds of cleansers to use and how often to clean the chair.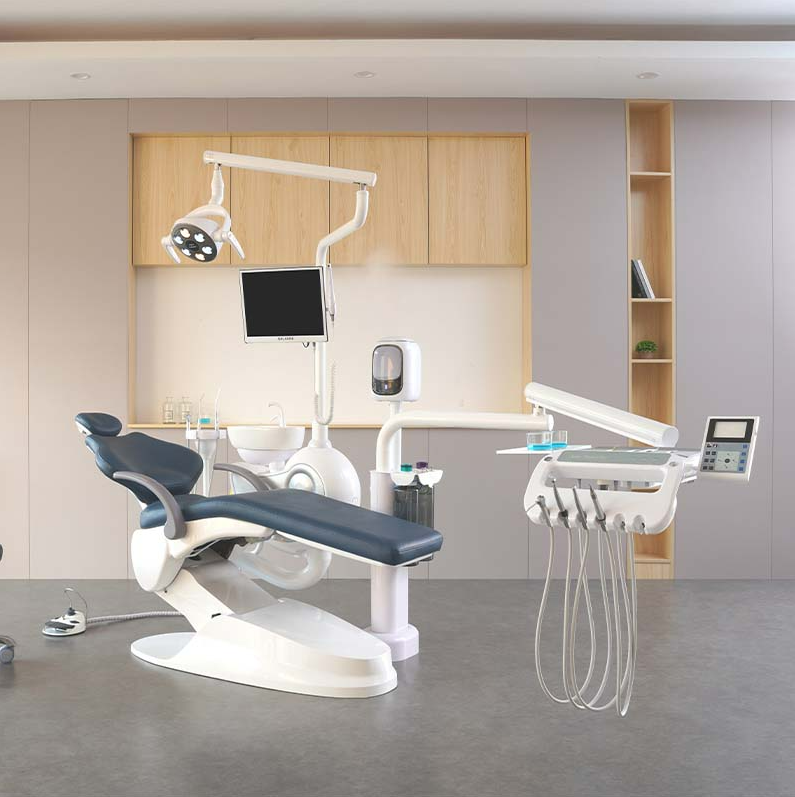 Tip #2: Maintain the Dental Chair Waterlines
Dental staff should make sure they properly maintain the dental unit waterlines to avoid the accumulation of odor and foul-smelling germs. To simplify the whole ordeal, experts recommend using the ICX tablets by A-dec. These tablets help optimize the dental unit's water quality.
Every time they refill a self-contained water bottle, they can place an ICX tablet into the empty container. Then, they can fill it up with water and reconnect it to the dental unit. The tablet will dissolve quickly in only about two minutes. It will maintain the quality of the water for a minimum of two weeks, as long as the levels of CFU were previously within an acceptable range.
Tip #3: Clear up Solid Filters
Debris gathered in the filters will build up down the line when left without care. This build-up may cause suction issues within the dental unit. So dental staff should check and maintain their crown catcher, solid and oil collectors, as well as other filters weekly to make sure the chair system runs efficiently without any obstruction. If needed, robust filters in most dental chairs are consumable and can be replaced entirely.
Aside from microorganisms, the dental chair is exposed to parasites, including bed bugs and lice. Poor care and maintenance of dental offices can potentially expose dental patients and dental staff to undesirable illnesses. Hence, dental practitioners should practice proper dental chair care and support.
If you are looking for more technical information on the dental unit, please email at spring@safetydental.net.